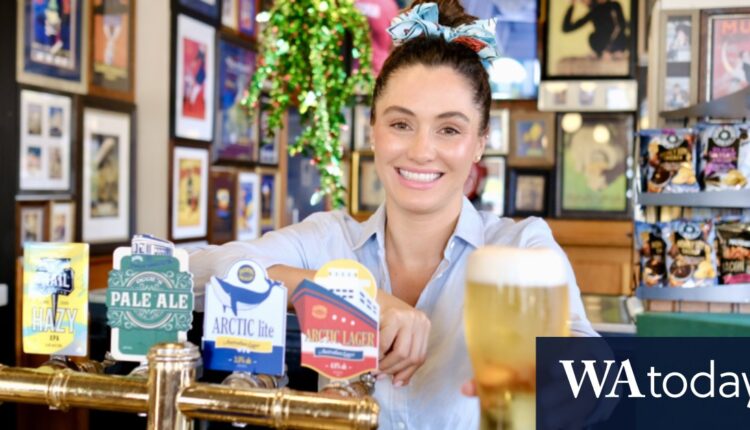 Rob Broadfield; Western Australian pubs; Perth's best pubs;
"It's very competitive in Fremantle, which is why classic old pubs like the Norfolk have had to double down and stick to their knitting," says Gossati. "It's not that we are in fashion or out of fashion. We grow old together with our customers.
Loading
"Mind you, we have to change to keep up with the times and customers' changing demands, but any change has to be done subtly, in a gentle way, so we don't displace anyone. The change should never be so noticeable that you say 'what's going on here?'.
"For instance, we were the first hotel in Fremantle to pour wine properly. A glass of wine up until that point was a thick catering company glass filled to the brim. We brought in big, finely made wine glasses and filled them less than a third full.
"It was still a regulation pour, but the bigger glass gave it room to breathe and be enjoyed better, which is now standard across the industry. But initially our customers were saying, 'Hang on, mate. Where's the rest of the wine?'."
The secret to a fair dinkum traditional Australian boozer? "Keep it real," says Gosatti.
Which is what they do at the glorious old heritage-listed Windsor Hotel in South Perth, a pub that in many ways is like a mullet: business out front, party out the back.
Its front bar is a haven for traditional pub goers — yes, even old fellas sipping on a pony — and the Windsor reverently caters to their tastes. At the back of the property the Garden Bar sports a hifalutin, produce-driven and seasonal menu which changes regularly and — quelle horreur! — pours craft beer made at the pub's own micro-brewery.
Fourth-generation publican Ella Ogden is one of the new breed of hoteliers. Despite her youth and enthusiasm for change she's not throwing out The Windsor's baby with the fashionable bathwater.
"The customers in our corner bar want no-nonsense, no-fuss service and good cold beer," Ogden says. "We put wooden kegs on the bar every Friday and punters can order a beer 'off the wood.' We have a bell in the bar. If you ring it you shout the bar. Not many people do it, but the tradition stands still."
Ogden — whose father Geoff is a famously down-to-earth old-school publican with a well-tuned BS radar and no time for trendy ideas — says she is following her father's way of running pubs, but is "slowly, incrementally making small changes" which won't scare the horses.
She says one of The Windsor's greatest assets "is the building and the site. It's a classic pub because it sits on a busy corner, it's a beautiful heritage-listed building and it makes a prominent statement at the heart of South Perth."
Ogden says reliability is a big part of the way a classic pub does business. "The quintessential Australian pub trades all the time, lunch and dinner, and is trusted to be always open."
The Windsor is a family-owned and run business, an increasingly rare thing these days, where most pubs are owned by big publicly listed hospitality groups. "That matters to people, especially our long-term customers," Ogden says.
"We have regulars who have drunk here for 40 years and staff that have been serving them for the same amount of time. And our regulars aren't backwards in coming forward when they think we've moved in the wrong direction or done something which detracts from the classic pub service they enjoy. We're very lucky to have customers who care about this stuff."
So, you should be in the need of a beer (or wine) served without fuss or fanfare in a pub that simply gets on with the job of selling you a frosty beverage with your chicken parmi, The Norfolk and The Windsor are for you. But wait, there's more. Here are our recommendations for old-school, traditionally run pubs in Perth.
The Perth pubs keeping it real
The Albion Hotel, Cottesloe. Sit in the front bar with all the sports fans, tradies in hi-vis, locals catching up for happy hour and older gents and enjoy simple food and not a craft beer in sight. There is, however, a full-sized Melbourne tram to sit in, in the back bar.
Chidlow Tavern. Thursday is "parmi and a pint" night. Happy hour begins at 4.30pm every afternoon. While it looks like a run-down shearers quarters on the outside, inside it's menu of good beers and classic pub grub (burgers, steaks, garlic prawns) are all you need.
Woodbridge Hotel, Guildford. The Woody is as cool as old school gets. Enjoy creamy garlic prawns and whole baked brie wikth your no-nonsense selection of beers.
The Captain Stirling, Nedlands. Once the favored haunt of the late Alan Bond, the Captain has kept his traditional pool-tables-in-the-bar style. Sports fans like the big screens while hoovering up their fish and chips.
Mundaring Hotel. It's a little flash these days but it's trad roots are showing, with Thursday parmi nights and proper cold beer in the front bar.