Task force aims to solve, prevent murders and disappearances of indigenous people
Estimated read time: 3-4 minutes
SALT LAKE CITY — Many important meetings happen at the Urban Indian Center in Salt Lake City. However, the one that happened Saturday morning is equally important.
"We have an issue in Utah that the missing and murdered indigenous people of our state are not being recognized, nor are their cases being addressed," said Yolanda Francisco-Nez.
Francisco-Nez is a member of the Utah Task Force for Missing and Murdered Indigenous Women and Girls.
She said there are at least 34 open cases in the state at the moment.
"Salt Lake City and the state of Utah are in the top 10 for missing and murdered indigenous women and girls," she said. "That's significant."
The big question is: Why? Why are there so many cases? That is exactly why this task force was formed to figure this out.
They have heard and found many similar stories.
"For instance, the scenario is that when a non-native person attends a pow-wow on the tribal nation, recruits a young woman to come to the city, buys them clothes, buys them shoes, maybe even gives them a car, solicits them, and then traffics them here on the streets of our city," said Francisco-Nez. "We know that this is happening."
When it comes time to investigate or prosecute in this scenario, this task force feels justice isn't always served.
"Tribal nations cannot prosecute non-native people," said Francisco-Nez. "Even at the most, at the most, the Navajo Nation, when they prosecute someone, can only put a person in jail for up to three years maximum."
The task force hopes things will change by raising awareness of these concerns.
Families of those indigenous people who have been murdered — both women and men — know how challenging and slow justice can be.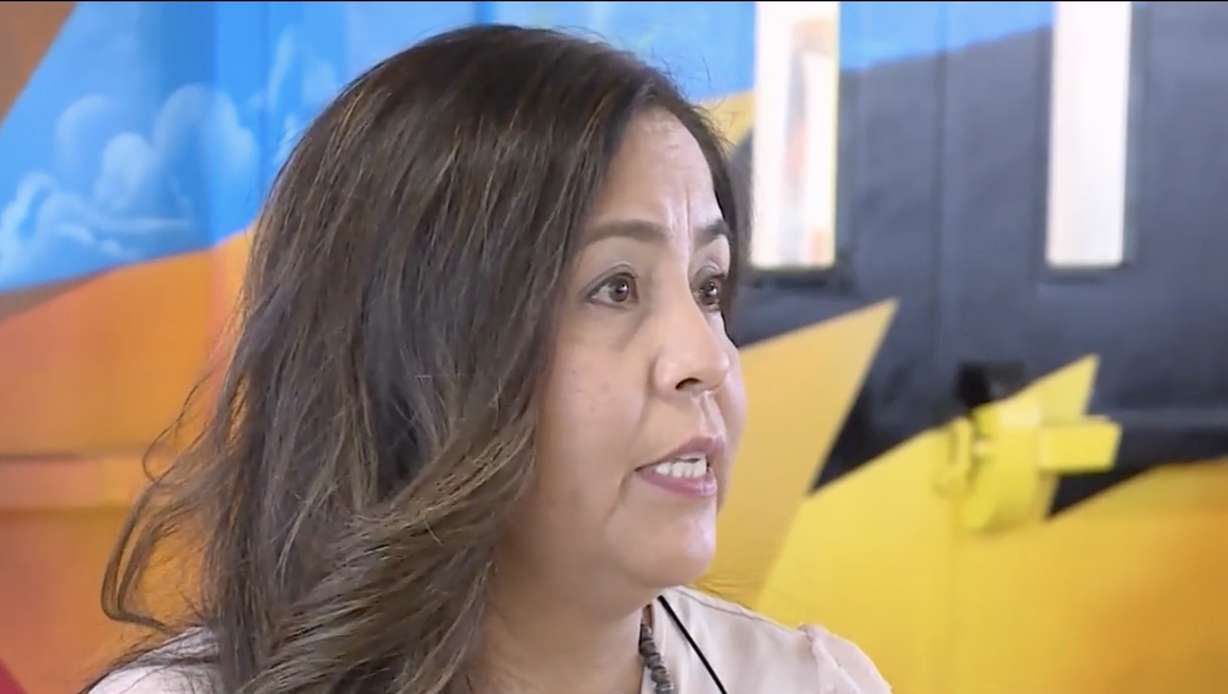 Utah Task Force for Missing and Murdered Indigenous Women and Girls met on Saturday. Yolanda Francisco-Nez, a member of the task force, said there are at least 34 open cases of indigenous women and girls in the state at the moment. (Photo: Ray Boone, KSL-TV)
Martha Murray's family lives in Fort Duchesne, Uintah County. She attended Saturday's task force meeting to tell the stories of three of her family members she said were murdered.
In one case, she said her aunt was murdered by her aunt's boyfriend. She said it took a lot of fighting to get the police involved.
In another case more than 15 years ago, police say Murray's nephew shot and killed himself after a police chase.
However, the family said the evidence doesn't point to that, and a trial in the case is scheduled to begin in a federal courtroom later this month.
"I'm excited to see that there is a task force that's helping to be a voice for families to get where we can't get," said Murray. "A lot of families have done their own legwork to investigate what happened, and this task force can help to be our voice."
Michelle Brown, who lives in American Fork and is a member of the Navajo Nation, told the task torce she got involved in Murdered and Missing Indigenous Women and Girls after one of her family members was murdered.
"It can be a painful subject to talk about. Even when her body was found, justice doesn't necessarily land where it should," said Brown. "I do think that the fact there is the task force, and they were allowed to form and gain funding to even do this is showing there is some progress that's being made."
It is slow progress, but it is happening. One meeting at a time.
"Let's figure out what is going on, and let's fix it," said Francisco-Nez. "So, we are continuing to remain hopeful."
×
Photos
Related stories
Most recent Utah stories
Alex Cabrero
More stories you may be interested in