"That Feels Right": 7 seasons later, BYU goalkeeper Cassidy Smith has cougars aiming for the story
BYU goalkeeper Cassidy Smith ahead of the Cougars' 1-0 win over Pepperdine on November 6, 2021 at South Field in Provo | © BYU FOTO 2021 All rights reserved (Ryan Campbell, BYU Photo)
Estimated reading time: 5-6 minutes
PROVO – Cassidy Smith waited seven years for this season so it wasn't a big deal to take advantage of a medical red shirt and an extra year made available by the impact of the COVID-19 pandemic on college sports.
The season itself definitely was.
While the fourth-seeded BYU women's soccer team, with Mikayla Colohan and her senior colleague Cameron Tucker, has put on an offensive show, Smith and the Cougar Defense are the backbone of the team.
Without the Lone Peak alumni, it's hard to tell where this team would be. Sure, there's a big chance they wouldn't prepare to host a national quarterfinal at South Field on Saturday night (5pm MT, BYUtv).
"Cass has had quite a journey here at BYU," said BYU coach Jennifer Rockwood of her seventh-year senior, who wore a red shirt for two seasons in 2016 and played a game as a defender as a freshman. "I couldn't be proud of how she struggled through it all; she was a backup for two years, a starter last year and has gained a lot of valuable experience."
In their final season with the program – even COVID seniors, as they are often called, don't last forever – Smith brought the team back to South Field one last time. Win or lose, there won't be another game on the court. Win and the Cougars make it to the Final Four for the first time in the program's history, to be played in Santa Clara, California this year.
Losing and, well, Smith and her teammates prefer not to think about it. The senior has already played through two torn labras, a third that she had never surgically repaired, and seven senior nights – including her own in which the Cougars won a West Coast Conference title with a 1-0 overtime win over Pepperdine – The way to BYU's fourth elite eight appearance of all time.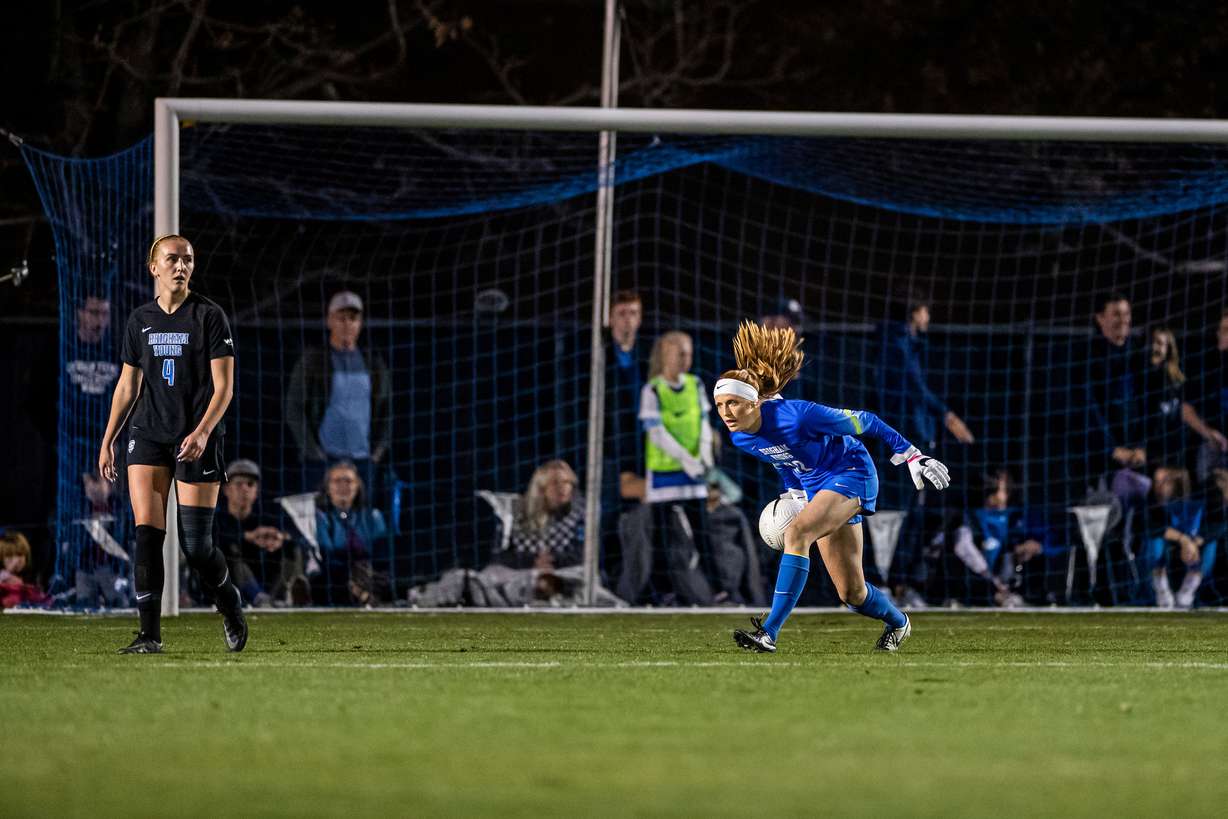 BYU goalkeeper Cassidy Smith collects a ball in the Cougars 1-0 win over Pepperdine in Senior Night on November 6, 2021 at South Field in Provo. | © BYU FOTO 2021 All rights reserved (Photo: Ryan Campbell, BYU Photo)
The lead-up to her last show in Provo was emotional, to say the least.
"I wasn't expecting it, but it feels right, too," said Smith, a three-of-a-kind who will graduate in sports and wellness in December and who is pursuing a career in sports administration. "This is our home, this is where we play our best football. We love to host South Carolina here and show them what South Field is like.
"We play for our fans. They bring so much energy and we try to live up to the occasion and live up to their energy."
BYU has an all-time offensive led by Colohan, the Davis High product already drafted by the NWSL's Orlando Pride and has returned for a final season at their alma mater.
Colohan, who was recently engaged to former BYU baseball star Jackson Cluff, has 51 career goals, the third best mark in BYU history (so far), along with 140 total points – good for all-time second place, including a hat trick and an assist against Alabama in the team's finals.
But behind every good attacker there is an equally talented goalkeeper, and Smith leaves her mark on the record book. The Alpine 5-foot-9 senior has 47 saves and 12 allowed goals in 21 games this year, a percentage of 0.833, which is currently fourth-best in a season in BYU history and the best since the highest-rated Rachel graduated Boaz ranks at 0.900 in 2015-16.
"She's been here a long time, but Cassidy is amazing; she puts such a loud voice behind us," said Colohan. "She runs everything in the field and is such a good leader. So many girls on this team just look up to her. She is constant with her energy every day, motivates the team, leads the way and loves a good, positive culture for our team.
"Everyone jumped on this ship with her and we just went on with her."
In the 1-0 victory of the Cougars against top seed Virginia in the round of 16, Smith was fully committed. Tucker snuck past the Cavaliers defense in the 47th minute and the defense did the rest, followed by three saves from Smith.
With the win, BYU avenged last year's loss to Virginia in the NCAA tournament. That could become a trend against South Carolina on Saturday that eliminated the Cougars from the tournament in 2016 – Smith's first year on campus, ahead of the injuries, heartache and time he spent on the bench behind some top goalkeepers.
Once again it all comes back to Smith.
"No question about it, to get to that point you have to have a phenomenal goalkeeper," said Rockwood. "And Cass did a phenomenal job with our backline.
"We're so far from last spring season that we lost to Virginia everyone in the country."
As the last few seconds passed, Smith raised her large gloved fists in triumph and waited as the team stormed across the field – bench and all – while royally dressed fans who occupied about a third of the Charlottesville stadium crowed the BYU battle song.
"That was by far our best performance we've ever had," said Smith. "I just feel like the pieces are falling apart and everything went as it should. We're more than ready to get into the Elite Eight."
NCAA women's soccer tournament
No. 4 BYU (15-4-1) vs. South Carolina (14-6-1)
kicking off: 5:00 p.m. MT in South Field, Provo
TV: BYUtv
Streaming: BYUtv.org
radio: BYU Cougars app
×
similar posts
More stories that might interest you