Why autumn is the best time of year to explore the trails
Natalie and her husband Randy Ockey love keeping active with their three sons. (Josh Syzmanik, KSL-TV)
PROVO – If you haven't walked one of Utah's beautiful canyons in a while, now is the time. The leaves are officially bursting with color. A Utah family explains why they make fall hiking a priority.
Natalie Ockey says there is something special in the air at this time of year.
"Fall is the best time because the air is just fresh and I feel like it's getting a little clearer," she said. "I feel like the leaves falling from the tree are like magic. I love it."
Natalie and her husband Randy Ockey love keeping active with their three sons. You blog about it at Utah's Adventure Family.
"We try to find all the fun places for families in Utah and provide tips to make it easy for families to get out," she said.
Ockey tries to teach her boys the importance of health while they are young.
"They don't realize that they are exercising and using their bodies because we are having fun, we are talking, we are enjoying what is around us," she said.
Intermountain Healthcare exercise physiologist Nick Francis says that is the goal.
"I think it's important to teach your children that exercise can be fun," he said.
With clearer air quality and firmer soil, Francis argues that fall is the best time of year to go outside.
"It's temperate. It's not too hot. It's not too cold … It's not as wet as spring can be, so it's a lot easier to use, "he said. "Whenever the terrain is less predictable, there is probably a little more risk of injury there."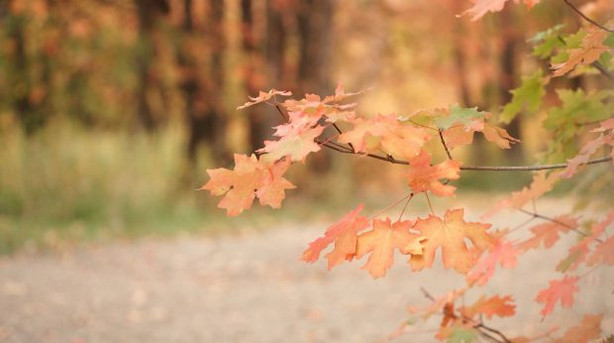 Fall is a great time to hike in Utah. (Photo: Josh Syzmanik, KSL-TV)
Francis encourages people to get at least 30 to 40 minutes of moderate exercise every day. He says hiking is an easy way to get your blood pumping.
"It doesn't have to be strenuous, but it should be more than just walking around the house slowly," he said. "Moving more often is usually better at lower intensity. The more you can move, the better."
Francis says exercise is good for the heart and lungs, and can lift your mood with elevated endorphins and a surge in dopamine.
"It just makes you feel better. You saturate oxygen, you get your circulation moving, "he said.
He says it's important to understand the difference between low, medium, and vigorous physical activity. He encourages people to use a smartwatch to track their heart rate, steps, and breathing rate.
To calculate your maximum heart rate, Francis tells people to subtract their age from 220. From there, they can calculate intensity percentages based on that number.
He says that moderate exercise is between 50 and 70% of a person's maximum heart rate.
Natalie Ockey believes hiking was especially important to her youngest son, 9-year-old Seth Ockey. He had heart surgery when he was a baby.
"It was really important for us that he could still keep that heart strong," she said. "Hiking was the most important thing for him. It keeps his heart going, keeps it healthy."
"I just find it calming and peaceful," said Seth.
When hiking isn't attractive, Francis encourages people to find another way to stay active.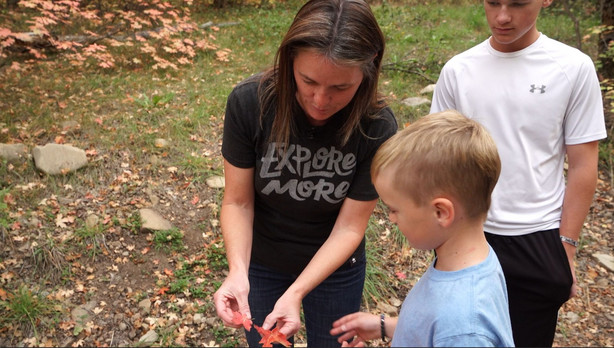 Natalie Ockey and two of her sons look at leaves on a hike. (Photo: Josh Syzmanik, KSL-TV)
"Finding something you like is really key to maintaining this type of lifestyle," he said. "Exercise can be anything you enjoy and this is a really good way to keep the family together.
He says that people who are consistent lead healthier lives. For the Ockey family, planning ahead is what counts.
"We try to just look at our calendar, and whenever we see a space available, it's just – plan. This is our night of adventure. Then we'll find a way, "said Natalie Ockey.
She encourages newbies to find an easy way to get started.
"Don't try to push for those big hikes that you see that are ten miles but super famous," she advised. "Avoid weekends if possible. During the week it is a great time to go where there are fewer people. "
Natalie values ​​the memories her family made together on the trails.
"We are pushed to spend time as a family and we just felt like it helped our family grow closer together," she said. "There's something about it that helps us connect and slow down a bit of our busy sports and school life."
Intermountain Healthcare provides a database of healthy hikes and drives to help families find an adventure that suits their ability, including more than 60 wheelchair and stroller accessible trails.
×
photos
similar links
similar posts
Aley Davis
More stories that might interest you